Hello and welcome to the History of Wallasey website, the place to be for the story of the places and the people of our great borough. I hope to transport you on a journey through the rich and wonderful heritage of this region, exploring its eventful history, investigating its unique culture and inspiring you to learn more.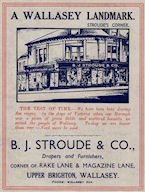 We learn about the rise of New Brighton, from a popular social watering place to a thriving holiday resort that could rival Blackpool and Southport. We look into the social and economic development of the borough as we remember the large houses that dominated the skyline and the shops that have long gone.

We remember the people who made a major contribution to the improvement and development of Wallasey and we also remember the ever changing face of our parish, including the way we travelled by trams, trains and buses as well as looking at our cinemas, churches and theatres.
This year will mark one hundred years since the outbreak of the First World War. This landmark anniversary, which had an impact on the lives of the people of Wallasey, will be commemorated on the History of Wallasey website.
The men and women who lost their lives from Wallasey are listed on the Great War Memorial plaque which is situated at VCH, Mill Lane. However, the list is far from complete so the aim of the project exclusive to History of Wallasey website is to eventually add all the missing names in 'Remember The Fallen :The Great War'. As much information will also be added - their background, service records and, where available, photographs. We Remember Our Fallen.

.......

From horse-drawn to electric we follow the definitive story of a transport system that caught the publics imagination in 'History of Wallasey Tramways'

A collection of Theatre programmes from the Floral Pavilion, Tivoli and Winter Gardens and more. Also New Brighton brochures and football programmes.