Heather Jones, Oldershaw School, 2010

A WALLASEY FIRST
THE GUIDE DOGS FOR THE BLIND ASSOCIATION
CONTENTS
1. Introduction
2. How it all began
3. Two women from Wallasey
4. The first guide dogs
5. "The Cliff'
6. The end of the beginning
1. INTRODUCTION
Pat, a family friend, is almost blind, but with the help of her guide dog, Holly, she is able to lead a normal life.
There are thousands of people like Pat, who cannot see at all or whose sight is very poor. They find some things very hard to do without some help. One of their biggest problems is just getting around from place to place. Things like crossing a busy road when they can't see the traffic or walking past bus stops, parked cars, pushchairs, bicycles and now wheelie bins that they can't see. A guide dog helps its blind or partially-sighted owner to get around safely and independently.
Pat got Holly from the Guide Dogs for the Blind Association which has now been running for over 75 years. The Association trains hundreds of dogs (and their owners!) each year and over the years has changed the lives of tens of thousands of people. However, until I mentioned it to Pat she had no idea that the Association began in Wallasey. Most of my friends also did not know about it when I asked.
What I hope to do in this project is explain how this important 'Wallasey First' came about and record how a small group of dedicated people made it happen.
2. HOW IT ALL BEGAN
During the First World War, a doctor looking after war-wounded in Germany was called away from a blind man with whom he was walking in the grounds of the hospital. The doctor left his German shepherd with the man and was subsequently so impressed by the dog's behaviour that he decided to start experiments in training dogs to act as guides for the blind.
By 1923 a guide dog training centre had been established at Potsdam which trained several thousand dogs in the next ten years. This work soon came to the attention of a wealthy American, Mrs Dorothy Harrison Eustis, who was breeding and training German shepherds in Switzerland for the customs service, the army and the police. After visiting the Potsdam centre, Mrs Eustis was impressed and wrote an article for the American Saturday Evening Post of October 1927.
Mrs Eustis then set up a guide dog centre, L 'Oeil qui Voit (The Seeing Eye), at Vevey in Switzerland and later established the first school for training dogs in the United States
3. TWO WOMEN FROM WALLASEY
Early in 1930 the work of the Seeing Eye appeared in British newspapers and although a lot of blind people became interested in it, there were no plans to set up a similar organisation in this country. Then a letter appeared in the Liverpool Echo asking if anyone could supply a guide dog for a blind man and if so, to get in touch with the Royal National Institute for the Blind (RNIB) in Liverpool.
The letter was read by Miss Muriel Crooke, a German shepherd enthusiast who lived in Wallasey, who got in touch with her friend, Mrs Rosamund Bond, a breeder and exhibitor of German shepherds. These ladies had some experience in training dogs for obedience testing and trials so they decided to contact the RNIB. Theirs was the only reply. The Secretary, Musgrave Frankland, himself blind, suggested that if they were serious they should get in touch with Mrs Eustis direct. They decided to write to Mrs Eustis and so it all began.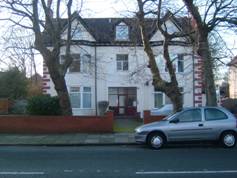 Unfortunately I couldn't find any photographs of these two important women and there are very few personal details available. Of the two, Miss Crooke was the more important. She was born Muriel Elise Crooke on 14 June 1901 in Egremont, and was the daughter of a well known Surgeon by the name of Dr William Crooke. By 1911 the family were living at 3 Warren Drive, New Brighton, She died in 1975. The photograph above shows 3 Warren Drive (now in flats) as it is today. It was here that the first meetings were held which led to the formation of the first Guide Dogs Committee as it was known.
To continue the story, Mrs Eustis was pleased that Muriel and Rosamund were interested in setting up a Seeing Eye organisation but warned them of the hard work and problems involved. For example, there was no book on the subject, there weren't many good trainers and it would cost a lot of money. However, the two Wallasey women remained enthusiastic and they met Mrs Eustis in London on 23 September 1930 to discuss their plans.
The original plan was to use Mrs Bond's country estate in Yorkshire as the training base. However, Mrs Eustis insisted that all the training had to be done in town to get the dogs used to traffic, and it had to be done under the immediate supervision of one of the sponsors. So Wallasey it was! Mrs Eustis also offered to lend a trainer to run a trial scheme for four or five dogs and blind people. All that was needed now was money and somewhere to do the training!
The latter parts of 1930, and the first half of 1931, were now devoted to setting up an organisation to raise money and finding a suitable training spot. In February 1931, Miss Crooke and Mrs Bond, together with two new supporters, Captain Alan Sington and Lady Kitty Ritson, went to London for a meeting with the National Institute for the Blind. Here they discovered to their dismay that, strictly speaking, they had been acting illegally in raising £284 (about £14,000 in today's money) for their training scheme because they were not a registered charity.
Nevertheless, the Guide Dog Committee, as it had become known, were determined to go ahead and a solution was found by affiliating the Committee to the Institute.
The first home of the dogs were kennels erected by the kindness of a Mr Prest on spare land attached to his garages in Cardigan Road, New Brighton. One of the garages was used for the storage and preparation of food and rooms for the trainer were found close by. I went to Cardigan Road but there is nothing to show that this is where the first British guide dogs were trained, which I think is a great shame.
So, with some money behind them and a place for the dogs, the Guide Dog Committee was ready to go.
4. THE FIRST GUIDE DOGS
The trainer lent by Mrs Eustis, William Debetaz, arrived in England from Switzerland on 31 July 1931 accompanied by Elliott Humphrey, Mrs Eustis' Director of Genetics and Training. Mr. Humphrey (pictured) was a world-famous expert on animals of all kinds and he selected seven of 28 German shepherd bitches that had been acquired from various sources.
Mr Humphrey returned to Switzerland and Mr Debetaz began the work of training the dogs. When the training was completed Mr Humphrey returned to test the dogs and help in the first part of turning them over to the blind. Now it was the turn of the blind men to be trained with the dogs, and the first class assembled in October. The pioneers were Allen Caldwell, Mr Lamb, Thomas ap Rhys and Musgrave Frankland (the Secretary of the Liverpool RNIB).
A favourite training-place for dogs that had passed the preliminary stages was Liscard cross-roads, which provided a number of different types of traffic hazard. Now a commonplace sight, the handlers then attracted large audiences, but these were rarely dispersed, since the dogs had to learn to cope with large crowds. At first, many in the crowds did not like the idea of the dogs being trained, thinking it cruel and unnatural, but slowly this changed as people realised how much the dogs seemed to be enjoying themselves and what a difference it made to the blind men.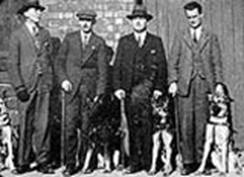 This photograph shows the first group, from left to right: Allen Caldwell with Flash, G. W. Lamb with Meta, Musgrave Frankland with Judy and Thomas AP Rhys with Folly.
After the training, which lasted about four weeks, the four men left with their dogs. After six months they were asked to report on their experiences. All were enthusiastic:
'Not only has my dog given me glorious freedom and independence, never known since pre-war days,' wrote Allen Caldwell, 'but delightful companionship.'
'With Folly,' wrote Thomas AP Rhys, 'I do not mind walking at the fastest pace or even running with her. 'He was to use guide dogs for the next 48 years and died in 1979 at the age of 82 while retraining with his sixth dog.
'After negotiating a1:1 obstacle,' wrote G W Lamb, 'we went away merrily, the crowd saying what a good dog it was.
Musgrave Frankland declared simply, 'A guide dog is almost equal in many ways to giving a blind man sight itself. Judith has been worth her weight in gold ...I would not be without her for a day.'
The trial had been a great success and it was decided to continue the training.
The next course began in October 1932, again with a trainer supplied by Mrs Eustis – a Mr Gabriel. The demand for dogs was growing and Mrs Eustis agreed to let Mr Gabriel stay to run another class, which finished in March 1933.
It was now obvious that a permanent trainer was required. Mrs Eustis was on the point of closing down her Swiss training school to concentrate on The Seeing Eye in the United States and she suggested that one of her best trainers, Captain Nicolai Liakhoff, might be interested in the post. Captain Liakhoff was a former officer of the Russian Imperial Guard who, after leaving Russia, had been forced to earn a living as a taxi driver and waiter in Paris and from whatever casual work he could find, including painting and private chauffeuring. But one day he encountered a guide dog at work in Potsdam and was so struck by what he saw that he went to work with Mrs Eustis in Switzerland. Faced with the choice of going to America or Britain to continue working with guide dogs he chose the latter because, according to someone who knew him well, it was a monarchy. He arrived in England in October 1933 and was to serve the Association as trainer, director of training, and finally as consultant until his death in 1962.
The kennel arrangements were still the same but a local Councillor, Mr Smith, had lent the Committee a large house in Victoria Road where the blind people could stay together, instead of being boarded in separate lodgings.
This photograph shows Captain Liakhoff (on the right) training a blind man at the junction of Rowson Street and Victoria Road.
5. "THE CLIFF"
Late in 1934 the Wallasey Corporation offered for a peppercorn rent what will always be thought of as the first real 'home' of the Association -'The Cliff'. This was an almost derelict house (over 100 years old) on the seashore and with a fierce wind blowing off the Irish Sea piling sand feet high round it (the promenade which we see today had not yet been built), the building hardly seemed ideal. But when things had been put into some sort of order, everything was able to be all to be under one roof. For the first time everything was brought together: the kennels, the administrative office and lodgings for the blind people and the trainer. This established the principle of providing a 'home' in which the blind students are guests for four weeks which is still the basis on which the training courses are run today. The photograph shows a blind man and his dog outside 'The Cliff'.
This map shows where 'The Cliff' (named as 'Cliff Villa') was located and the big garden that came with it.
At about the same time as moving to 'The Cliff', the Guide Dogs Committee changed its name to the Guide Dogs for the Blind Association.
Now settled in his new home, Captain Liakhoff set about introducing new training methods. His impact on the guide dog movement was incalculable. He made goggles that simulated blindness (the Association's very first 'sim specs') and designed guide dog harnesses that would be familiar to guide dog owners today. He did a lot of work on bloodlines and planned a breeding programme as early as the 1940s. He actually invented puppy walking - his two daughters were the world's first puppy walkers. Crucially, and perhaps most impressively, he worked out -from scratch - training methods that are still in daily use around the world today.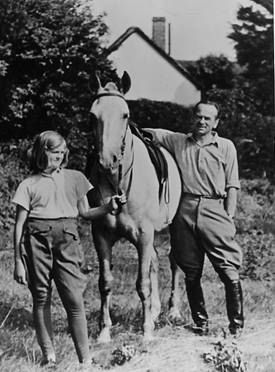 This photograph shows Captain Liakhoff with his youngest daughter, Catherine. 'The Cliff' is in the background.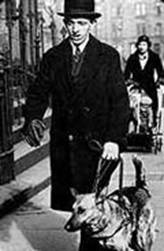 As a soldier in the First World War, Captain Liakhoff had had his horse shot from under him and landed on his knees, shattering both kneecaps and giving him recurrent pain for the rest of his life. He used a silver-tipped sword-stick to help him get around and with his strong accent and monocle became a well-known and popular figure around New Brighton and Liscard.
I have not been able to find any details about how many dogs were trained at 'The Cliff' but it must have been a lot. The photograph on the left is of Andrew Gilzean, who was one of the first two guide dog owners in Scotland, trained at The Cliff in Wallasey in March 1935. He was still using Lady, guide dog number 33, in 1943.
This is a selection of photographs of Captain Liakhoff taken near 'The Cliff'.
6. THE END OF THE BEGINNING
Everything was going very well at 'The Cliff' until 1939. As the First World War had started off the guide dog idea, so the outbreak of the Second World War changed the future of the Guide Dogs for the Blind Association. 'The Cliff' was taken over by the Army and the Association was homeless. This might seem a bit unfair, but when you know that 'The Cliff' was badly damaged by a bomb early in the war it could have been lucky. Who knows what would have happened to Captain Liakhoff, his family and his dogs.
Captain Liakhoff was not to be put off and continued the training, the students once again having to stay in lodgings, but I have been unable to find out where the kennels were based. But with conditions for training becoming difficult, particularly with Merseyside being a main target for enemy bombing, it was decided to move from the Wallasey area and in 1941 Edmondscote Manor, a large house in extensive grounds at Leamington Spa, was bought as a training centre. And so Wallasey's connection with the Guide Dogs for the Blind Association was ended, although Muriel Cooke continued to devote the rest of her life to the Association she had founded.
However, if you look around, there are still things to remind us of the part played by Wallasey.
Most people will know that the two blocks of flats now standing on the grounds are known as "The Cliff".
The Association is commemorated by a plaque on one of the original gateposts which can be found in Wellington Road. The photograph below shows the inscription (even though the date is not strictly correct!).

By the Floral Pavilion is a sculpture of a guide dog commemorating the first dogs to be trained (again with a wrong date).
What is missing, perhaps, is a commemoration to a person who should be remembered as contributing more than any other in skill, determination, knowledge, time and self-sacrifice and who devoted the whole of her life to a great Wallasey First….Miss Muriel Cooke.
7. BIBLIOGRAPHY AND SOURCES
The Rise and Progress of Wallasey ………. BC Woods & PC Brown
Old Mansions of Wallasey ………………….. J. S. Rebecca
Wirral Journal, summer 1989 ………………. Kenneth Burnley
Guide Dogs for the Blind Association Website
American Guide Dogs for the Blind Website
Google Search and Images
www.derbyroad.co.uk – Notable Locals
Wallasey Reference Library
Wikipedia