In the return of In The Shadow of The Tower we read about a potter, strikers, bus crashes, lifeboat men and take a look at just a few of our fallen who died in the Great War.
The Potter of Wallasey

They called John Goodwin the "Potter of Seacombe". He was a mild little man who sent the name of the town round the world. Today his plates and stoneware, still bright in blue, purple and cheerful brown, are rare enough to fetch collector's prices.

It was in 1851 that John Goodwin came to Wallasey from his native Staffordshire. Down by the docks, off Wheatland Lane, he established his business. It was three storeys high and had six kilns.

The first ovens were fired in 1852 and Goodwin looked to a bright future. His was one of the first industries to come to town.

Seacombe was then just a village. It was rustic and leafy, but it had, too, its darker side. It wasn't all roses, picturesque cottages and scents of flowers and hawthorn. There was awful poverty and hungry children.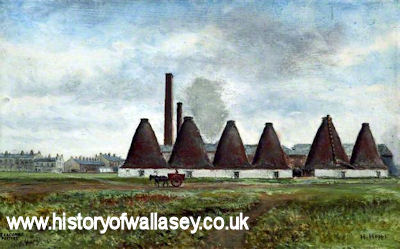 A report of the time stated: "One of the great needs of Seacombe is the means of giving regular employment to the large numbers of people who, through want of work, are exposed to so many temptations."

Goodwin's pottery brought work. To large numbers of local families it brought a chance to earn a wage and it brought hope.

Goodwin's place in the story of the town has, I think, been underestimated. He played an important part in its development in the middle years of the 19th Century.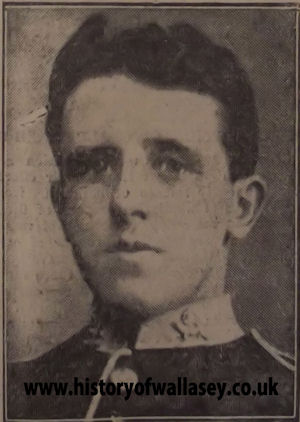 Plucky Seacombe Man Falls In Belgium

The intimation has been received at his home, 155, Wheatland Lane, Seacombe, of the death at Ypres of Private James Kenny, of the Yorkshire and Lancaster Regiment.

A letter from the captain of his company has reached his mother and in this it is mentioned that Private Kenny was buried at St. Jean, not far from the scene of the battle.

Private Kenny, who joined the Army six years ago, returned from India, where he had been stationed some three years, in December, and left for France just after Christmas. He was wounded in February in rather remarkable circumstances. A bullet passed clean through his chest, wounding a comrade who was sitting down to a meal with him. Private Kenny was unconscious that he himself had been hit until it was pointed out to him that he was bleeding. Even then he attached little importance to his injury and, after being bandaged, went back to the trench. Later, however, he had to be invalided home. In his absence his regiment suffered very severely; he wrote to his mother on his return that few of the old faces remained. He did not long survive himself on returning to the firing line.
The Garden of Remembrance

The garden was located at All Saints Church, adjacent to Ellery Park Road, and was laid out for Sunday, 11th November, 1947, in remembrance of those who lost their lives during the war. A golden oak was planted by Mrs Philpin in memory of her son John Mervyn, who lost his life on 29th August 1944. Unfortunately the uncertain future of All Saints leads to the garden to be landscaped over.
What's In A Name?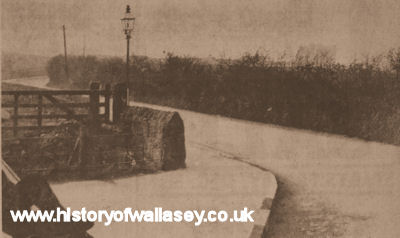 Wallasey Road, 1920's
Old Wallasey took its street names from places and people. It tied them up with its history. The names had meanings.

Seacombe got its first main street in the middle of the 19th Century – Victoria Road (after the Queen, of course). Later it became Borough Road, largely at the request of the local firemen, who were continually getting it confused with the new Brighton Victoria Road.

Poulton Road was originally the road leading to the tree-shaded village of Poulton, close by Wallasey Pool.

Belle Vue Road marks the site of Belle Vue Gardens, which lay between St. Paul's Church and old Victoria Road, in Seacombe. The gardens, with pavilions and tea tables, were a popular rendezvous for summer visitors in the late 1800s.

Byerley Street was called after Dr. Isaac Byerley, who lived in Myrtle Cottage (on the site of Jubilee Grove). Dr. Byerley was a popular GP in the middle of the 19th Century.

Littledale Road commemorates Mr. Harold Littledale, who lived for many years in the manor house that was the College of Art, in Central Park.

Mainwaring Road gets its name from the Mainwaring family, who owned land in Seacombe.

What fields stood where Wheatland Lane is, and Gorsedale Road recalls the days when it was a rustic walk, bordered by gorse bushes.

Sherlock Lane perpetuates the name of a family resident in Wallasey since early times. An old mill pond once stood close by Mill Lane.

Hose Side Road is a modern adaption of 'Hoose', itself a corruption of 'Hoes' (sandhills). In the old days Hose Side was a lane bordered by sand dunes.

Seaview Road, as mentioned, was originally Marsden's Lane who built Liscard Castle (a highly ornate residence nicknamed 'Marsden Folly').

The Vyner family, local landowners, gave their name to Vyner Road, and Meddowcroft takes its name from the landowner.

Monk Road and Newell Road were named in honour of Mr. Thomas Monk and his son-in-law, constructors of the Great Float Docks and Seacombe Ferry approaches.

Egremont's King Street is after Ellen King, who opened the land, and Tobin Street is after local squire Sir John Tobin.

Stringhey Road perpetuates a local field name. Zig Zag Road became so known of its tortuous course, and Holland Road is after the Holland family, who lived in the large house what is now Vale Park.

Griffin Avenue, Moreton, is after Canon Griffin of Sacred Heart Church, one of the great characters of the area in the 1920s and 1930s.

Moreton's Eleanor and Burden Roads are after Mrs. Eleanor Burden, a pioneer in the 1920's of caravan sites and for a number of years a member of the Town Council.

Up to 70 – 80 years ago all the names given to roads had local associations. Then the rot set in, and any old names were made to do.

By the mid 20th Century all the names of new housing development had been quite characterless and unimaginative.

It is such a pity. The town's poorer for it, that much less interesting.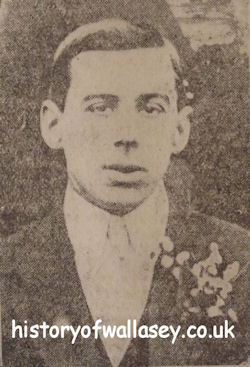 Snipped Through The Head
Mrs. Wright, 30 Lancaster Avenue, Liscard, has received official news that her husband, Private Albert E. Wright, of the King's Liverpool Regiment has been killed in action. The Company Commander in a letter to the bereaved wife says:-

"I write to express my sympathy with you on the occasion of the death of your husband, Private A.E. Wright, who was killed in action on 31sr July. On this day the battalion attacked the German second system with great success, capturing the whole of its objective with a large number of prisoners, for which it has received high praise. It is small consolation, but it may comfort you somewhat to know that your husband was killed instantly, and did not endure hours of agony like so many. He was sniped through the head. Your husband came nobly forward to fight for a just and righteous cause, against an impious foe, whose career has been stained by every crime. In this he did his duty well and truly, and though he be dead his life cannot be regarded as wasted which given for such a good cause".

Private Wright was 26 years of age, and leaves a widow and three children. He was formerly employed as a butcher by Mr. R. Abbott, Withens Lane, Liscard. He went to France in January.
Seaview Road

View of Seaview Road, looking toward Mount Pleasant Road.
It is a long, long time ago that Seaview Road looked like this. About 120 years ago, in fact. This was the Seaview Road of the 1890's when Wallasey was still little more than a collection of villages and Liscard wore a country air about it.

Seaview Road as a built-up thoroughfare is something like one-hundred ten years old. Originally it was simply a cart track up to Hoseside Road, where it was closed by a gate and a lodge house. I have already covered the actual business part in Shopping in Wallasey : Seaview Road.

As can be seen from the photograph, it was rough and muddy and pitted with pools of water. There were hedges and trees on either side, and here and there a large house.

To the top right there is someone doing a spot of repair work to a gas-lamp by the gateway leading to Hoseside. A schoolboy, clad in knickerbockers and a cap, stands watching also on the right.

Up to about thirty years before this photograph Seaview Road had been known as Marsden's Lane, after a Liverpool brush manufacturer, Mr. John Marsden, He it was who built Liscard Castle. Liscard Castle never was a castle, of course. It was an eccentric sort of building but its battlements and stone lion embellishments gave it a certain stateliness. Some of the locals christened it 'Brush Castle'. Others called it 'Marsden Folly'.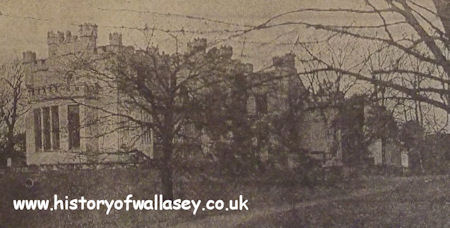 The photograph of the 'castle' dates back to the late 1890's. By that time it had become derelict. Remote, painted a dull grey and surrounded by trees, it was reputed to be haunted.

Looking at it, I am not surprised schoolchildren hurried past it and older folk avoided it after dark. It wears a gloomy look. Its narrow driveway leads to crumbling stonework and gaping windows.

In a Seaview Road which was a twisting and uneven cart track, lit only by the spluttering flames of a few-lamps, it must have seemed a good place to leave behind you on winter nights in those far-off Victorian times. In 1902 the town left it behind forever. It was demolished.

One Hundred Years of New Brighton Lifeboat (1860s-1960s)

There had been a station at The Magazines, Wallasey, for many years before the decision in 1863 to station a new boat at New Brighton. The craft 'Rescue' came into service on 24th January of that year.

In 1868 the New Brighton station was completely reorganised and the 1863 boat substantially rebuilt. In 1868 a new self-righting lifeboat was added, together with a large wooden boathouse.

With growing commitments, the old Mersey Docks and Harbour Board found it impossible to give proper care to the lifeboat service and in July, 1894, the whole organisation was transferred to the Royal National Lifeboat Institution.

At the beginning of the century, when all lifeboat stations, were hard-pressed for money, there were appeals known as the Lifeboat Saturday Fund, and regattas and rowing races were held on the Mersey.

There was great rivalry, not always of a friendly nature, between the crews of the lifeboat stations – Liverpool, Formby, Point of Ayre and Hoylake.

The lifeboat 'Willie and Arthur' took part in September, 1875, in a rescue. The boat was called to the wrecked 'United States' barque Ellen Southard and its action was so gallant that the US Government under a special Act of Congress conferred gold medals on all members of the New Brighton crew.

In November, 1928, came the famous rescue of members of the crew of the French merchantman 'Emile Delmas'. The call came early on the morning of 24th November. The 1,300 ton vessel was being driven on the Horse Bank, off Southport, in a 100 mph gale.

The local lifeboat fought an eight hour battle with massive seas. Only one life was lost – a Frenchman misjudged the jumping distance to the lifeboat's net.

Between the 1860s - 1960s there have been 15 boats that have been used at New Brighton. All but two were outright gifts or purchased with legacies left the purpose.

Famous among them were The Queen, William and Kate Johnson (1924-1950) and Edmund and Mary Robinson (1938-1950). These three boats alone between them saved 524 lives. They attended scores of vessels in distress.

Two boats were continuously on call here from 1863 to 1950, when the establishment reduced to one. 'Norman B. Corlett' was presented to the station at the cost of £31,000 by Mr. W.E. Corlett and family in memory of a son who was lost in local waters. The Duchess of Kent (Princess Marina) named the boat at Liverpool in 1951.

The men who manned her – and those who continue on today – are all volunteers and are the inheritors of a great tradition. It is something that gives them enormous pride.

Many storms have raged and many calls have been answered since the old-time lifeboatmen actually rowed their craft, but the spirit of service remains the same.

Over those one hundred years covered here the station has saved more than 900 lives. 'Rescue' was the first boat. 'Rescue' has been the station's watchword.