The Beginnings Of Wallasey Football
Football in Wallasey was born in kick-abouts on the shore. The kick-about boys became clubs. The clubs won big followings. The football followers became fanatics. Over a century ago before the Kop became an institution, before scarf-wrapped and rattle-waving thousands clicked through turnstiles into part of daily life, Wallasey had earned the reputation of being "a football-mad place". The game was very much the thing.

At the turn of the last century almost every church and school had its own team. There were street teams by the dozen.

Street gas lamp standards and rolled-up coats served as goalposts. Lads would pool precious pocket money to buy a ball.

Many of the teams were called after the road or area from which they came – Ashville from Ashville Road, in Seacombe, for instance, and Harrowby from Harrowby Road, close to Egremont shore, where the team trained.

The fortunes of the various clubs were followed with tremendous interest.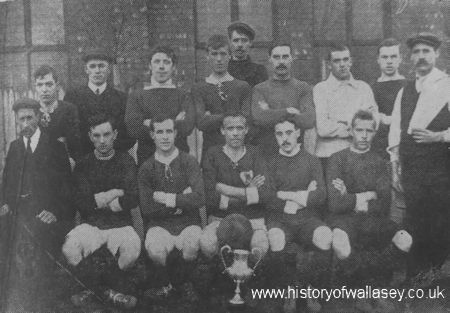 Seacombe United F.C., when they were champions of the Wirral Intermediate Division in 1908-09.
In days when there was no radio or television, and not much money to spare for entertainment, Saturday matches drew big crowds.

Rivalry between teams was intense. The game was taken very seriously.

Working lads – and shop and factory hours were long – were no sooner home before they were rigged out in shorts and boots and jerseys.

There were fields in plenty for games, and in Seacombe, Egremont and New Brighton the sands were clean, firm and wide.

Just over 110 years ago organised games really came into their own. Football became a local craze.

Although the town was growling quite rapidly and the builders were busy putting up terraces of houses, there was a great deal of open spaces available for recreation.

Football was being played at Rake Lane as long ago as 1880. All amateur stuff, of course.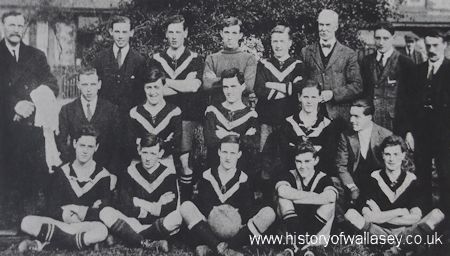 This was Seacombe Victoria, at Belvidere Road ground, 1922.
New Brighton Athletic F.C

Professional football did not come to town until 1921, with the formation of the New Brighton A.F.C. (Rakers).

Over a century ago there were so many amateur teams in Wallasey that it was reported that difficulty was being found in "choosing different combinations of playing colours".

In the early years of the last century Poulton Rovers were important in the Liverpool League.

The Johnnies (Egremont St. John's) were another team to be reckoned with. "Very fast", said a contemporary report.
Poulton Rovers had Owen Jones as goalkeeper. The team started as a bible class and played on a pitch where Surry Street is. Poulton Athletic played at Limekiln Lane.


Among the Poulton side was George Sutton, Marshall Grant and Stan Robinson – "probably the best amateur outside-left in local football".

It had Henry Upton and the Hulses and the Addisons. Names everyone knew in the old days. Harrowby had Billy Robinson, the Rudges, the Browns, Farrel, Ball and Swain, Harry Myers and Harold Fayre.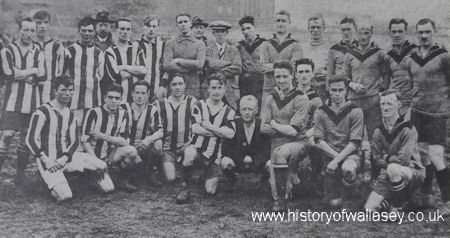 Picture taken in the mid 1920s at The Tower Grounds, New Brighton. Harrowby were playing a representative side of the old Invinsa League (the team in stripped jerseys). The occasion was a charity match.
Fayre turned professional and played with Everton, Bury and Wigan Borough. He lived in Glyn Road, Wallasey, and died in 1964.

Harrowby were all-conquering. In the 1919-20 season they completed a notable triple by winning the Cheshire Amateur Cup, the Wirral Senior Cup and the West Cheshire League Shield.

The teams in their great season included Hunter, Whiteford, Cleator, Freeman, Reid, Williams, Jenkins, Coffey, Aust, Sutcliffe, Hayes, Wadeson, Robertson and Cheeseborough.

There were the Seacombe, Swifts, the Riverside Lads and the Invinsa League. There were the old Wirral Senior League with such teams as Seacombe P.S.A., the old Wheatland , Liscard Kems. Rake Lane P.S.A., and Wallasey Village.

The letters P.S.A.? They stood for Pleasant Sunday Afternoon!

Seacombe Congs star in the old days was a Cyril Whitehead. He had a trial with Tranmere Rovers and later joined Northern Nomads.
Wallasey Y.M.C.A. (Manor Road) had a big name in the 1920s. In the Invinsa League it once played the Laird Street, Birkenhead, team which had a promising lad called Dixie Dean.

Memories of Moreton amateurs include the days when the local vicar was paid a yearly rent of £10 for the use of a field. In the summer the football boys rented it out to a farmer for grazing and pocketed £4 to swell their funds.

At that time a football cost 7s 6d. shirts, half-a-crown, and boots about 4s.

Wagonettes to such outlandish places as Heswall and Neston for away games cost teams a few shillings. Referees were paid a fee of 2s.

Collections were made in a cap after many games. Spectators gave what they could spare – usually coppers.

The lads played charity matches. Hospitals were then voluntary organisations and depended to a very great extent on local fund-raising activities.

If a player was injured, there would be a match organised to help him out financially.

It is recalled many years later by a spectator who watched the games that "Competition was intense, but things were kept friendly. There were very, very few ugly incidents. Football in the old days was clean and full of action. Lads would play hard for the whole game. Perhaps it was because there wasn't much else for youngsters to do in those times, but the fact is that Wallasey probably had more small clubs than any town in the area".

The changes over the years have been in amateur football what they have been in everything else – tremendous.

Teams don't dress behind hedges anymore, or shield one another if there are no hedges conveniently to hand.

You see few lads pedal-cycling or running to a match. They arrive in cars at laid-out pitches.

Sport was something to battle your heart out for, something to run the legs from under you for.

It hadn't become too organised. It hadn't become something of a business.

It was practice on the wide clean sands. It was 4s-boots and a 7s 6d. football.

It was a cup you carried home to the sideboard, to keep polished and cherished right through the years into memory-filled old age.