High on Breck Road, chipped and charred and covered with the dust of passing traffic, as well as obscured from view by overgrown branches from trees, stands a memorial to a remarkable woman, to a character famous in the Wallasey of the early 1800s. They called her 'kind old lady of Leasowe Castle'. She was the local lady bountiful, the town's do-gooder-in-chief. Mrs. Margaret Boode, the friend of the ship-wrecked, the fine lady with a heart to match.

It was in 1802 that Margaret Boode took up residence at Leasowe Castle. The widow of Lewis W. Boode, a West Indian planter, and daughter of the rev. Thomas Dannett, a Liverpool clergyman, she made considerable additions and alterations to the old place.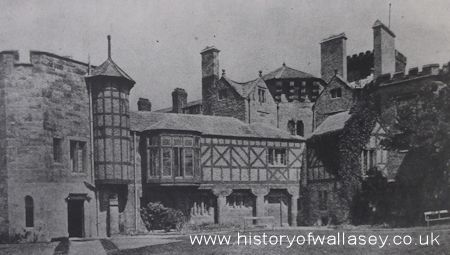 "Stately pile above the sands," they called Leasowe Castle in the old days. Thi picture dates to the late 19th Century.
A description of her gardens in 1816 ran: "Disposed in terraces and alcoves, surrounded with a large fosse and mound..."

During her occupancy of the castle it was often turned into a receiving house and hospital for the survivors of shipwrecks, which were then frequent along the local coast.

Half-drowned mariners, who received scant consideration from the wreckers of the area, who would rob them and then kick them back into the sea, found a good friend in Margaret Boode.

Just how much she did for those who staggered ashore near her home is indicated in this description of the wreck of the schooner Mary Betsy, which sailed from Wexford on October 24th, 1820:

"On Wednesday the 26th they picked up a Liverpool pilot, and by 4 p.m., a dreadful gale had sprung up. Two hours later the vessel struck on a bank, beat off, and drifted ashore.

"The crew endeavoured to launch the boat but failed, so took to the rigging, where they remained about 5½ hours, drenched by every sea.

"Cullen, one of the crew, said: 'I don't know how I held on as I was quite unconscious. Hearing a noise below, I looked down and saw a large crowd of 100 or more people with horses and carts.

"'It was just at break of day at a place called Mockbeggar (Leasowe)', Cullen went on to say.

"He then describes how two carpenters working at Mrs. Boode's, Leasowe Castle took him in a cart to the lodge, where restoratives were applied and he received every kindness".

The old description says that no humanity was shown by anyone on the shore but Mrs. Boode and her servants.

The wreckers completely stripped the vessel, leaving nothing but the standing rigging and the masts.

Such wrecks were common. The local wreckers earned a reputation for inhumanity.

There is not much doubt that many committed murder to gain a few gold pieces of small items of jewellery from the hands of luckless mariners.

Opposed to them, ever ready to run to the help of seamen cast up on the Leasowe coast, was Margaret Boode.

She feared no one. Her practical kindness became a byword.
Margaret Boode's daughter and heir, Mary Anne, married Colonel Edward Cust in January, 1821.