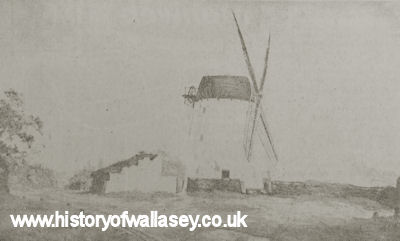 Wallasey Mill. Big and proud and high on a hill. Pasture land and country lanes stretched below it. It stood for just over one hundred years. It ground a flour that was described as "white as the first snow". Flour from a local mill from corn and wheat from local fields. The mill was a landmark. Then it capitulated to grass and moss and overgrowth. It tumbled. All so long ago.

Milling was the town's first industry. It was here at the time of Domesday.

The area had many mills over the centuries, but Wallasey Mill was the finest – a quiet, peaceful poem in stone and wood and iron.

They laid the first stones of it in 1765, on the Breck, on a site later occupied by the house Millthwaite, and they built well.

A rough lane led up to it from St. Hilary Brow, then called Carren Hill. Beneath, the village was small and sheltered and rich in lilac trees.

There was just one main street. On each side of it was a picturesque line of snug cottages, farms and outbuildings, crofts and gardens.

The ancient Breck – or Brake Common (which meant natural scrub or fern) – covered an extensive area.

The ridge started near Poulton and went northwards for over a mile towards the sandhills and the sea.

Wallasey Mill was a central point, a gathering place. It helped the people of the scattered villages of Wallasey, Poulton and Liscard to come into contact with one another, to meet, to talk.

Its huge stones were white and its top was heavily timbered. Its sails swept up and high, and then down almost to the hill on which it stood like a massive sentinel.

It looked safe and sure and timeless. Old Wallasey was proud of it.
For over a century it rumbled and turned and prospered.

Then, quite suddenly, as new ways and new ideas came in, as the little villages became less scattered, as Wallasey started to grow up, it stopped, and died.

The last of its millers left. It fell into disrepair. It crumbled.
In 1887, just 122 years after it had first invited the attention of the winds from the sea and from the Welsh hills it was at eye-level with in the distance, they pulled it down.

The sails tottered and fell. They stonework that looked so lasting was reduced to a vast cloud of dust.

It had had its rivals, but none could match it for majesty of size and beauty of appearance. It was the king of the local grinding places.

The others were impressive, but they lacked the grandeur of Wallasey Mill. It was something rather special.

Poulton, or Rake Mill, stood at the corner of Mill Lane and The Rake (a lane near Breck Road). It was on the maps of the town as far back as the fifteenth century.

A field near it was known as Mill hey. Mill Bank, a house that later became Clarendon High School, was named after it.

Liscard had its mill too. This was on the east side of a straggling narrow footpath that connected Earlston Road with Mount Pleasant Road.

Owned originally by a Mr. Penlett, it was shown on maps in the early 1800's as a peg or post mill. It was demolished over 175 years ago.

The mills, agriculture and work on the river, were the early fields of employment for Wallasey people.

Later came the potteries, the boat-building yards at Seacombe, smaltering and copper works, and breweries.

The mills supplied a large proportion of the town's flour. Farmers carted it away in large sacks. It was sold in little shops.

Bread from it was produced in ovens in bakers' shops that smelt clean and warm and wholesome. Bread that was white and soft and brown-crusted.

Big six and seven-pound family loaves. Round loaves, cottage loaves, and loaves stuffed with spices and raisins.

The millers were figures to be reckoned with in the community. Men of substance and standing.

And to be the miller at Wallasey Mill was to be someone indeed. The man in charge of the kiln of the local mills was one of the king-pins of the town.

His home was the near neighbourhood of St. Hilary's, the parish church. It was then a St. Hilary's with a history going back to the 1400's.

It was a St. Hilary's destined to be destroyed by fire in 1857, and rebuilt two years later.

The great mill on the roof of Wallasey looked down on a Wallasey Village that had a thatched roofed Cheshire Cheese Inn, a tithe barn (on the corner of Leasowe Road), shippens and granaries.

Hedges and gardens. Little dwelling places that were a pleasing jumble of different shapes, sizes and styles.