The quiet corners of years ago have long gone. The fields and lanes that broad highways and vast estates have been wiped out. The farms and the white cottages that the march of of progress overtook and trampled down. The places known by nicknames – Nelson's Gutter, Creek, Suicide Lane, Cuffy Lane, Cinder Lane, and Golacre Meadow. Places that are now nothing more but pictures found in photo albums or on the internet.

Successive road widening schemes in the 1920's and the 1930's, and the blitzes of the early 1940's, changed the face of the town. Much was swept away that had character, colour and charm.

The cottages of Liscard and Seacombe, Poulton and tree-rich Wallasey Village, were pretty and small, highly individual. Lace curtains, and flowers all around.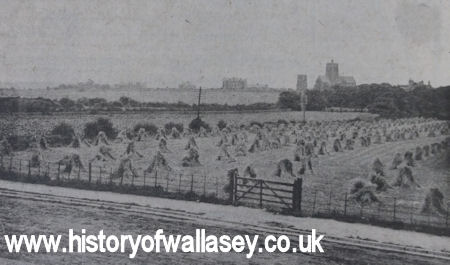 The fields and farms of old Liscard have all gone. This was how Belvidere Road looked in the early years of the last centry. Farmland stretches towards St. Hilary's Parish Church.
If it were possible to take a stroll round the town as it was shortly after the turn of the last century, you would stumble on much that would surprise.

You would find, for instance, Catherine Terrace, in Ferryview Road, Seacombe. It was considered a rather special place many years ago. It consisted of three houses, built in the 1830's. Surrounding them was the poor tightly packed property known as the Mersey Street area. It was all swept away under a demolition order about 1930.

Catherine Terrace in the old days had overlooked the end of the lengthy pleasure grounds which belonged to Stoke's Seacombe Hotel. The elevated grounds followed the curved line of the river wall.

Stoke's was quite famous. It had an American bowling alley in its grounds, and cosy rustic arbours to sit in. There was a summerhouse and a public clock. Opposite was the ferry landing stage. All of the ground on which the present clock tower, ferry buildings and the then Seacombe Ferry Hotel stand is 'made' land. At one time the high water mark was along the line of Birkenhead Road.

Near the Seacombe end of the road was a gateway with the words 'Marine Parade' over it, carved on a painted board. This stood until 1925.

Adjoining the Marine Hotel at Seacombe (a hostelry better known as 'Brassey's') there was 100 years ago an irregular row of whitewashed brick cottages. There were masses of flowers in their gardens in Birkenhead Road.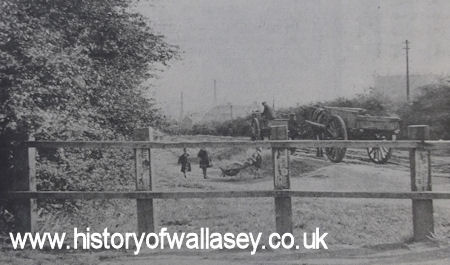 Gorsey Lane, Poulton, really was a lane in the 1920s, when this photograph was taken. There were fields where houses now stand. In the background, down towards Duke Street Bridge, was the Gas Works
The oldest of the cottages was originally thatched and kept as an eating house by one Daniel Torney. This would seem to have been the original ferry-house at Seacombe.

Down in Seacombe were Concertina Cottages, equally as picturesque. They had been built in 1875. The form of construction was most unusual. The houses were hexagonal in shape, built in five blocks of three. They covered an area just to the south of St. Joseph's Church, in Wheatland Lane, and were demolished in 1954.

A quarter for the wealthy was old West Seacombe Terrace, now Percy Road. The houses were large. Each had its servants' quarters. From it there was a clear view of Bidston Hill. Green fields stretched towards the docks.

There use to be a pleasant rustic walk down Oakdale to the Dock Road, leading on to a path across the marsh to Bidston.

Between Victoria Road (now Borough Road) and Brougham Road, near the top and approached by a noble of avenue stood Winch House. It disappeared some 130 years ago.

Gorsedale Road was known as Cinder Lane. At its intersection with Gorsey Lane stood Old Manor Farm. Little bridges crossed several creeks.

Running up from the Dock Road near Gorsey Lane was Creek Side, a name recalling that Wallasey Pool was not always confined between dock walls. Near it was Robinson's Creek.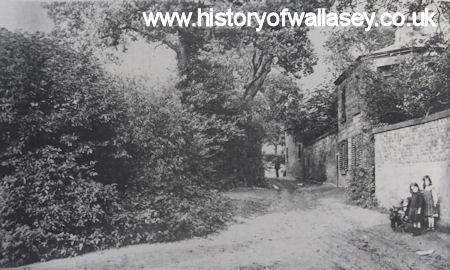 Tree-shaded, quiet and rustic. That was School Lane in the old days. Everyone in the Wallasey Village area knew it as The Gutter, or Nelson's Gutter. Houses and flats stand there now.
If you took a brisk walk through the lanes of Poulton, one-hundred-or-so years back, you would come to one of the finest of the old houses of the town, 'The Eyrie'. It stood up on the Breck, and was still there up to the 1930's.

It was for many years the home of Mr. William Carson, ferry manager, who designed and constructed the Egremont Ferry of 1874, the New Brighton Ferry of 1865 and the Seacombe Ferry of 1880.

A footpath, nicknamed Suicide Lane, ran across the fields to Seaview Road, along the route known today as Kingsway.

Love Lane, a charming tree-shadowed walk, was called Cuffy Lane, because it bordered a field called Cuff Hey. Golacre Meadow stood nearby.

School Lane, in Wallasey Village, answered to The Gutter (see picture above). Rice Lane housed the well-known Garner's Farm.

Until Seabank Road was cut through the fields, King Street (at one time Barn Lane) ended at Green Lane (now Greenwood Lane).
There was Finnegan's Cottage, close to Rice Lane, Egremont. It stood until 1925, a one-storey place of whitewashed walls.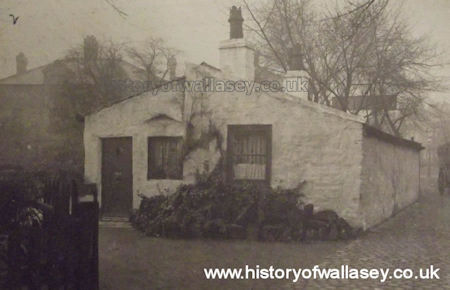 Old Finnegan's Cottage stood close to Rice Lane. Ships' masts and spares formed part of its timbers.
Few of the fine old houses are left. Years ago the town was quite famous for its miniature mansions.

One of the first to be built was Poulton Hall. Handsome and four-square in style, it went up in 1790 and came down in 1933. Poulton Hall Road stands where it did.
A proud old building, Poulton Hall was a familiar landmark up to the early 1930s.
On the site of the Town Hall was North Meade. Its grounds extended from Brighton Street to the river wall.

Another fine house was Liscard Castle. The title was misleading. It never was a castle, although its battlements and stone lion embellishments gave it dignity. It stood near the end of Seaview Road. Built in 1841, it was demolished in 1902. The locals called it Marden's Folly. The house was originally occupied by a Mr. John Marsden, a brush manufacturer in Liverpool. A big, eccentric-looking place. It was finally divided into three parts, the Turrets, the Towers and the Castle. Roads bearing two of these names now mark the site.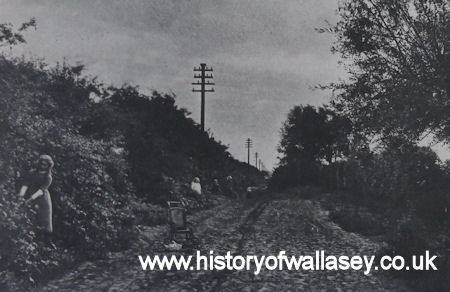 In the old days Green Lane, Wallasey Village, was a rough track bordered by trees and hedges. In this photograph girls are busily blackberrying there.
The fine old "Stonehouse," on the site of the present Stonehouse Road, crumbled to a heap of bricks and dust about 100 years ago. Its history went back to the 1600s.

In Breck Road was 'Darley Dene', a house originally known as 'The Slopes'. During the last war it was used as military quarters. In an air raid on March 12th 1941, it received a direct hit, killing some soldiers and injuring many others.

Another fine house was 'Clifton Hall'. It stood next to the Wallasey Grammar School, in Withens Lane, became a sea training home, and was later taken over by the Corporation to form the start of a Technical College.

Urmson's House (from which Urmson Road takes its name) stood opposite the small car-park in Liscard Village where the Fire Station once stood. The house was built in 1729, it was demolished in 1928.

Zig Zag Hall stood on the site now occupied by Steel Avenue and Sheen Road. Large and barn-like, it could be seen up to 100 years ago.

Mona Cottage stood until 1924 at the corner of Rake Lane and Liscard Village. It was sometimes called Oyster Shell Cottage, for its window mullions were covered with the shells. There were windows at each end, but none at the sides. The roof timbers were mostly masts or spars of vessels.

Less than a century ago Poulton still had its village water pump and trough. You would find them right in the centre of the cross-roads of Poulton, Mill Lane, Breck Road and Poulton Bridge Road.

A century ago there were clusters of cottages in Liscard. Egerton Cottage, thatched and pretty, stood opposite the Delivery Post Office in Liscard Village.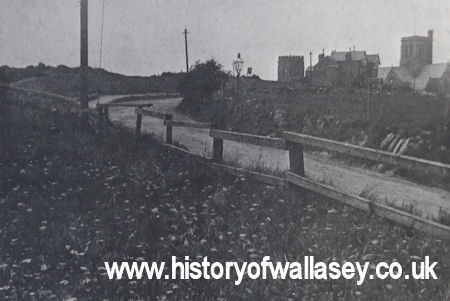 Only as far back as the 1920s Wallasey Road looked like this along that stretch near St. Hilary's Parish Church, pictured on the right.
Up to the early 1920s Mill Lane really had a mill pond. On its bank stood a farm. Locals use to go fishing in it, sailing on it in a little boat, and picnicking on its grassy banks. The site is now occupied by the corner of Eldon Road

A century ago Wallasey Village still had its farms, its granaries, and its lilac trees. Its narrow roadway was often covered with sand blown from Harrison Drive.

At one time you could travel on the open top deck of a tram-car in summer and smell trees and flowers and hay fields. The trams had letter-boxes on them. It was all part of the service.

Village pumps and fine old houses. Fields, farms and country lanes. They were all part of Wallasey a century ago.

Some of them lingered on into the age of wide roads, buses, the invasion of the car, and great housing estates.

Now, almost have gone. Only old pictures record a forgotten time.

Gone are almost all of the little shops on corners, with clanging door-bells. Sawdust floors, and everything weighed and wrapped by hand.

Gone is 'Piggy Jones's Field' in Poulton; Bellis's Field and its pond, off Manor Road, and the old Monkey House, in Liscard.

Rattling trams and gas-lit streets. Penny bunches of flowers from little cottages with big gardens.

All of it belonged to another way of life, another world. None of it will ever be known again.

Courts and alleys vanished in clouds of brick dust in the 1920's and 1930's. The wartime air raids brought toppling down most of what the demolition men had missed.

The cobbles have gone, and the horse and carts, and the quaint old names.
It's the new look now. Vast estates where fields were. Tower blocks of flats on the sites of cottages and farms.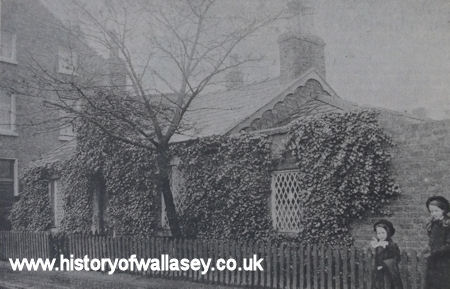 Ivy Cottage was one of the many pretty little dwelling houses in Wallasey many years ago. It stood in Liscard Road, almost opposite Parkside, adjacernt to the King's Arms Hotel.